Ford F150 For Sale: A Complete Buyer's Guide for Sale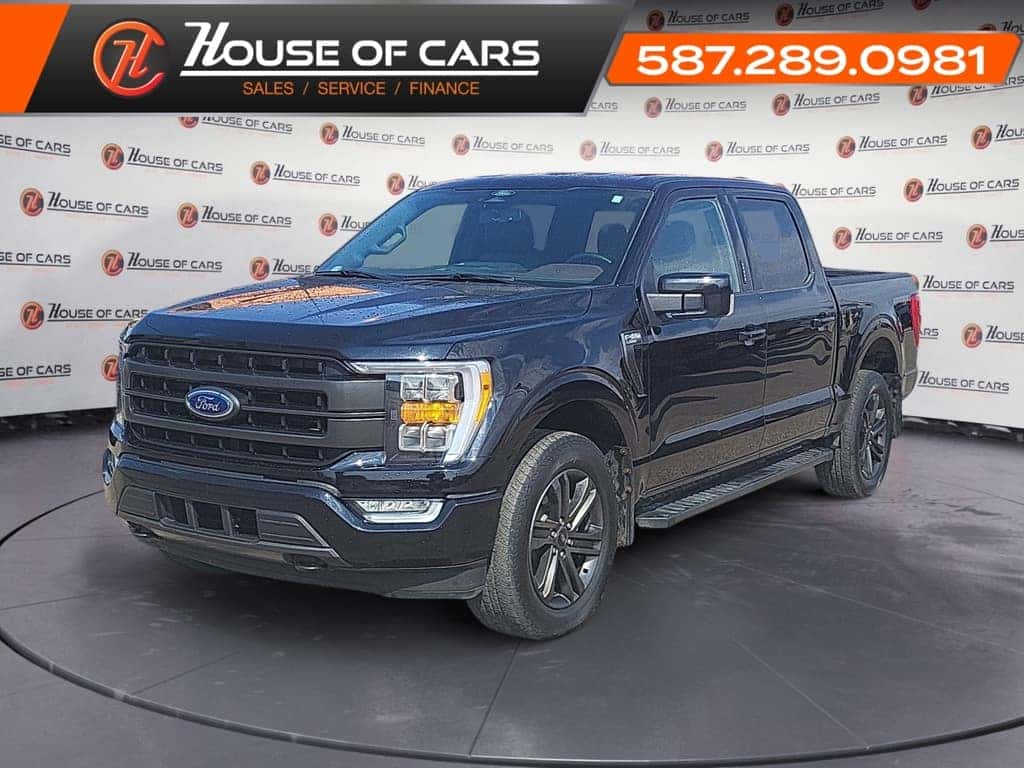 When we talk about pickup trucks, the Ford F150 for sale shines as a true American automotive icon. Known for its versatility, strength, and trustworthiness, the F-150 has won over both truck fans and everyday buyers. In this complete guide by

House of Cars
, we'll explore all the key details about the Ford F-150, giving potential buyers the information they need to make a smart choice.
1. What are the Ford F-150 Engine Options? A Detailed Overview
If you're looking for a Ford F-150 for sale, there are a range of engine choices, each catering to different preferences and needs. From the fuel-efficient V6 EcoBoost engines to the robust V8 options, buyers can select the powertrain that aligns with their towing, hauling, and efficiency requirements.
| Engine | Horsepower | Torque |
| --- | --- | --- |
| 3.3L Ti-VCT V6 | 290 HP | 265 lb-ft |
| 2.7L EcoBoost® Twin-Turbocharged V6 | 325 HP | 400 lb-ft |
| 5.0L Ti-VCT V8 | 400 HP | 410 lb-ft |
| 3.5L EcoBoost® Twin-Turbocharged V6 | 400 HP | 500 lb-ft |
| 3.5L PowerBoost™ Full Hybrid V6 | 430 HP | 570 lb-ft |
| High-Output 3.5L EcoBoost® Twin-Turbocharged V6 | 450 HP | 510 lb-ft |
3.3L Ti-VCT V6 Engine: The Steadfast Companion
The 3.3L Ti-VCT V6 engine is that dependable companion for your F150 journey. With 290 horsepower and 265 lb-ft of torque, this engine offers a seamless balance of power and efficiency. It's the foundation of the F-150's versatility, making it an ideal choice for daily drives and light hauling duties.
2.7L EcoBoost V6 Engine: The Power of Efficiency
With 325 horsepower and a robust 400 lb-ft of torque, this engine effortlessly marries performance with fuel economy. Whether you're navigating city streets or embarking on weekend adventures, this engine ensures you never have to choose between power and efficiency.
5.0L Ti-VCT V8 Engine: Embracing Tradition with Muscle
Boasting 400 horsepower and 410 lb-ft of torque, this engine pays homage to tradition while embracing modern technology. It's the choice for those who require unbridled strength for towing heavier loads, making it a reliable partner for both work and play.
3.0L Power Stroke V6 Turbo Diesel Engine
With 250 horsepower and an impressive 440 lb-ft of torque, this diesel powerhouse thrives in the world of heavy towing and hauling. It's the embodiment of grit and determination, ensuring you conquer challenges with confidence.
3.5L EcoBoost V6 Engine
For those who demand unapologetic power, the 3.5L EcoBoost V6 engine answers the call with authority. With 400 horsepower (and a staggering 450 horsepower in the F-150 Raptor) and 500 lb-ft of torque (510 lb-ft in the F-150 Raptor), this engine is the definition of exhilaration. It's the choice for those who seek maximum towing capacity and acceleration prowess.
3.5L PowerBoost Full Hybrid V6 Engine
Imagine a fusion of power and efficiency where eco-friendliness and performance coexist harmoniously. The 3.5L PowerBoost Full Hybrid V6 engine embodies this ideal. With a combined 430 horsepower and an astounding 570 lb-ft of torque, this hybrid marvel showcases how innovation elevates the driving experience. It's the bridge between sustainability and domination.
3.5L PowerBoost Full Hybrid V6 Engine (F-150 Lightning)
In the realm of the extraordinary, the F-150 Lightning's 3.5L PowerBoost Full Hybrid V6 engine reigns supreme. Estimated to deliver over 700 horsepower and more than 1,000 lb-ft of torque, this engine defines the concept of lightning-fast acceleration and awe-inspiring power. It's an exclusive invitation to experience the future of electric performance.
2. Towing and Payload Capabilities
The F-150 stands out for its exceptional towing and payload capabilities. These trucks are built to handle various tasks, from towing trailers to transporting heavy loads. With different configurations and engine options, buyers can choose a model that fits their specific needs.
ENGINE
TOWING CAPACITY
MAX. TOWING CONFIGURATIONS
2.7L EcoBoost V6
10,100 lbs.
• SuperCab, 6.5 ft. box, 4×4
• SuperCrew, 5.5-ft. box, 4×4
3.5L EcoBoost V6
14,000 lbs.
• SuperCab, 8-ft. box, 4×2, Max Trailer Tow Package
• SuperCrew, 6.5-ft. box, 4×2, Max Trailer Tow Package
High-output 3.5L EcoBoost V6
8,200 lbs.
SuperCrew, 5.5-ft. box, 4×4
Towing Capacity
Imagine towing up to 14,000 pounds with the 2021 F-150. Engine choices like the 3.5L EcoBoost V6 and the 5.0L Ti-VCT V8 mean your towing needs are covered – whether it's a camper or heavy load.
Payload Power
With a maximum payload capacity of 3,325 pounds, the F-150 is your ally in transporting materials or tools. Its chassis, suspension, and frame are engineered for balance and control.
Perfect Harmony: Trailer and Truck
Safety comes first. Match your trailer's weight with your F-150's towing capacity. Evenly distribute payload in the bed for stability. The F-150's engineering ensures a smooth journey.
The Ford F-150 isn't just a truck – it's a symbol of strength and reliability. Towing boats or loading equipment, the F-150 stands ready for every challenge, powering your journeys and adventures.
3. Cab Configurations and Bed Lengths
Buyers can personalize their F-150 to match their lifestyle and usage. The truck offers a variety of cab configurations, including Regular, SuperCab, and SuperCrew, providing ample space for passengers and cargo.
Cab Styles
Your F-150's cab is your space, and it comes in three styles: Regular Cab, SuperCab, and SuperCrew. The Regular Cab seats three, making it a classic choice for those who prioritize truck bed space. The SuperCab provides a bit more room with rear seats that can fold up, suitable for both passengers and cargo. For a family-friendly option, the SuperCrew offers four full-size doors and ample interior space.
Bed Lengths
The bed, or cargo area, of your F-150 also comes in various lengths: 5.5 feet, 6.5 feet, and 8 feet. The shorter bed is ideal for daily use and parking in tighter spaces. The mid-size bed strikes a balance between cargo space and maneuverability. The longest bed is the choice for serious hauling, accommodating bigger loads with ease.
Pairing Cab and Bed
Choosing the right combination depends on your needs. Need room for passengers and gear? SuperCrew with a 6.5-foot bed might be your match. If it's a balance between passenger space and cargo capacity, the SuperCab and 6.5-foot bed combo delivers. For maximum cargo and towing power, the Regular Cab and 8-foot bed make a practical pair.
4. Interior Comfort and Technology
Inside the F-150, buyers can expect a blend of comfort and modern technology. With well-designed seats and user-friendly controls, the interior offers a pleasant driving experience. Advanced infotainment systems, connectivity features, and driver-assistance technologies elevate the driving experience further.
With the 2023 F-150, the cabin's layout and controls can be adjusted to your preferences, ensuring that everything from climate control to media is tailored to your liking.
The rear seats can be folded to create a flat loading space, making it easier to transport larger items. 
Advanced driver-assistance systems like adaptive cruise control, lane-keeping assist, and automatic emergency braking work in tandem to provide an extra layer of protection on the road. 
5. Fuel Efficiency and Efficiency Technologies
While the F-150 is a powerful workhorse, Ford hasn't compromised on fuel efficiency. The incorporation of technologies like auto start-stop, aerodynamic design, and engine advancements contribute to better fuel economy, catering to both daily commutes and long hauls.
Fuel Economy Stats For Ford F150 For Sale
– EPA estimates for the F-150's 2.7-liter V-6: Up to 20 mpg city, 26 mpg highway.
– Twin-turbo 3.5-liter V-6: Estimated at 18 mpg city, 24 mpg highway.
– Hybrid version: Projections as high as 25 mpg city, 26 mpg highway.
– In testing, Tremor model with 3.5-liter returned 19 mpg at 75-mph highway.
– F-150 hybrid's real-world mpg evaluation pending.
For detailed fuel economy insights, visit EPA's official website.
The 2023 F-150 is designed to balance both. Start-Stop Technology intelligently shuts off the engine when you come to a halt, saving fuel in traffic or at red lights. Regenerative braking captures energy during braking and converts it into power, boosting efficiency.
The 2023 F-150 offers a range of engine choices, allowing you to select the one that aligns with your efficiency goals. From EcoBoost engines to hybrid options, there's a choice for every budget. The F-150 Hybrid, for instance, pairs electric power with the gas engine, offering a seamless blend of performance and efficiency.
6. Safety Features
Safety is a priority, and the F-150 is equipped with a range of safety features to protect occupants and pedestrians.
Collision Avoidance: A Watchful Eye
The 2023 F-150 features intelligent tools designed to prevent accidents. Think of it as an extra pair of eyes on the road. When there's a potential front-end collision, a warning signal appears. If a crash seems imminent, the truck can even apply the brakes on your behalf.
Blind-Spot Monitoring: A Second Set of Eyes
Navigating traffic is now safer with the F-150's intelligent blind-spot monitoring. Equipped with advanced sensors, it detects vehicles in your blind spots. When it identifies a potential danger, you receive a visible or audible alert. Real-world trials prove its significance in preventing side collisions and improving overall road awareness, ensuring your safety on the road.
360-Degree Visibility
The F-150 has a cool camera system that gives you a top-down view of everything around you, helping when you park and move around. They've tested this tech really carefully, and it helps to make the places you can't see much smaller. It's like having a better view of what's around, especially when things are tight, making sure you're safe.
Adaptive Cruise Control
The F-150's adaptive cruise control uses sensors to maintain a safe distance from vehicles ahead. It automatically adjusts speed based on traffic flow, easing the stress of long drives and enhancing highway safety.
Pro Trailer Backup Assist
The F-150's Pro Trailer Backup Assist is tested and it's great at making trailer maneuvering easier. Just turn a knob, and you can steer the trailer really well, making it less likely to twist and improving safety when you're working with trailers.
Real-World Performance
The safety features in the 2023 F-150 aren't just ideas. They've tried it all out in the real world. Ford has done a bunch of tests to make sure all the tech works perfectly in different situations.
7. Off-Road Capabilities
The 2023 Ford F-150 isn't your typical truck. Its tough build and sturdy suspension make it a force to reckon with on rough trails and rocky landscapes. It's a true companion for outdoor enthusiasts, ready to handle boulders or muddy paths with ease.
The Terrain Management System
Ford's Terrain Management System isn't just a name – it's a game-changer. This tech lets you choose driving modes for different terrains like mud, sand, or gravel. Real-world tests prove its ability to keep traction and stability intact for a confident off-road experience.
Skid Plates and Protection
Off-roading hazards won't faze the F-150. Skid plates shield essential parts from rocks and debris. Proven through tests, these protective measures ensure your off-road journeys are worry-free.
Trail Control
Think cruise control for off-roading. Trail Control maintains a steady pace on tricky terrains, including downhill slopes. Real-world trials back its capabilities, allowing you to focus on steering while the F-150 handles acceleration.
Built for Adventure
The F-150's off-road abilities aren't just talk. Rigorous testing ensures every feature, from suspension to traction control, lives up to the hype. Experts agree – the F-150 conquers tough landscapes with ease.
8. Maintenance and Reliability
The 2023 F-150 is engineered for durability, designed to withstand the tests of time and the demands of the road. Its robust construction and quality materials contribute to its reputation for reliability.
Like any vehicle, the F-150 benefits from regular maintenance to ensure optimal performance. Timely oil changes, tire rotations, and fluid checks are essential to keeping your truck running smoothly. Following the recommended maintenance schedule helps maintain its reliability.
Ford's warranty coverage also adds some extra peace of mind. Understanding the warranty terms and following maintenance guidelines helps ensure your F-150's reliability for the long haul.
9. Resale Value and Ownership Costs
Value Retention: The F-150 is no ordinary truck for sale – it's an investment. Its impressive resale value means you can expect a substantial return when it's time to sell or trade-in. This translates to a more cost-effective ownership experience.
Ownership Costs
Owning the F-150 involves ongoing expenses. Fuel, insurance, and maintenance. These factors contribute to the overall cost of ownership. Researching these aspects helps you plan and manage your budget effectively.
Fuel Efficiency: The 2023 Ford F-150 offers various engine options, including hybrid models, that contribute to improved fuel efficiency compared to previous generations. This can lead to long-term savings on fuel costs.
Insurance Costs: The F-150's popularity and strong safety features can often result in lower insurance premiums compared to other vehicles in its class.
Depreciation: The F-150's reputation for retaining its value can significantly offset depreciation costs. This is particularly important when it comes to resale or trade-in value down the road.
Maintenance and Repairs: While maintenance and repair costs can vary based on usage and driving conditions, the F-150's reliability and wide availability of parts contribute to generally reasonable maintenance expenses.
Warranty Coverage: Ford offers limited powertrain warranties for the F-150, providing added peace of mind against unexpected repair costs during the initial ownership period. There may be other warranty options available at the dealer.
Longevity: The F-150's durable construction and reputation for long-lasting performance can contribute to fewer unexpected repairs and replacements over time, leading to potential savings in maintenance costs.
Tax Incentives: Depending on your location, some hybrid models of the 2023 F-150 might qualify for tax incentives or rebates, which can further lower the overall ownership costs.
The Ford F-150's legacy as a dependable workhorse and versatile companion is well-deserved. With its diverse range of engine options, towing capabilities, interior comforts, and safety features, the F-150 caters to a wide spectrum of buyers. From practical daily use to tackling challenging terrains, the F-150 excels in various roles, making it a quintessential American pickup truck.
As you consider making the F-150 a part of your life, remember that House of Cars has trucks for sale in Alberta and is here to provide the expertise and support you need. With our wide range of Ford F150 for sale models, exceptional customer service, competitive car financing options and commitment to satisfaction, we're ready to assist you in finding the perfect Ford F-150 that meets your unique requirements.
Click here to find a dealership near you. You can also buy online. We deliver nationwide!
Or check out our F-150 Inventory below.
—
Disclaimer: Please note that the information provided in this article is for general informational purposes only. Specific features, specifications, and details may vary based on the model year and trim of the Ford F-150. It's recommended to refer to the manufacturer's official documentation for the most accurate and up-to-date information before making a purchase decision.